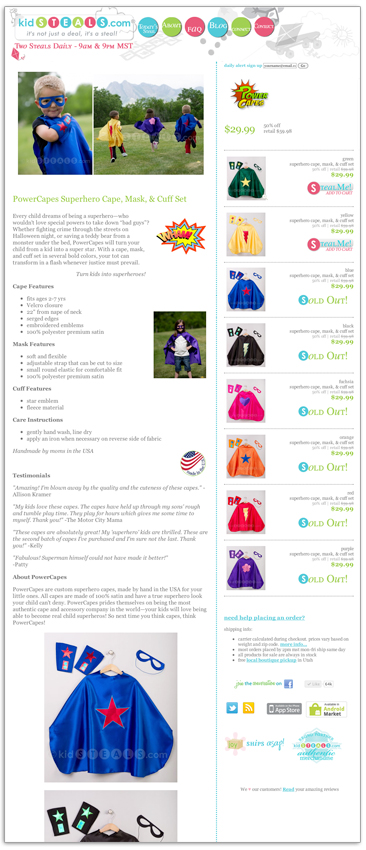 Power Capes Case Study
In the words of Justin Draplin, Owner
I don't know why you wouldn't want to try working with kidSTEALS.com. We've sold a lot of product on kidSTEALS.com and the company has been great to work with. I really liked the video they did for our product, too.
The kidSTEALS.com Difference
What surprised me the most was how much product kidSTEALS.com sold and how quickly kidSTEALS.com paid. kidSTEALS.com sent full payment in 30 days or less. It's rare to get paid so quickly. Most companies want net 30 or longer for payment terms. I didn't have to talk kidSTEALS.com down — they were already very fair.
Fair, Simple, and Friendly
The whole process was pretty simple. It wasn't as complicated as some companies. kidSTEALS.com isn't as mean as some companies out there, either. Other companies charge $20 for shipping just one item over what we said we'd ship, or they'd want me to ship, even though I'm giving them a great deal!
kidSTEALS.com is one of the best companies out there. I'd give kidSTEALS.com high scores for flexibility, leniency, and having the best terms.