Here at Steal Network we're obsessed with featuring amazing deals on trendy, practical, boutique-quality products for women. babySTEALS.com, kidSTEALS.com, scrapbookSTEALS.com, and sheSTEALS.com spoon feed women two piping-hot steals every day at 8am and 8pm PST, like clockwork. Our comparison shopping site KidCrawl.com is a place where moms can read reviews, chat in forums, and find low prices on baby and kid products. Regardless of how we bring you the best deals, our mission statement "we send joy" means more to us than simply selling products. We live to connect with our fans and provide fanatical service, authentic value, and lightning-fast fulfillment.
Stride Rite Boy Shoes
40% - 59% off
Oops! Undies by Oops! Sheet Inc
50% off
We R Memory Keepers Sew Stamper Doodle Kit
50% off
OnHand iPhone 5/5S Card Case
52% off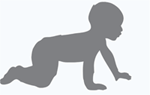 Before you buy anything online for your baby and kids, check KidCrawl.com to make sure you're getting the best price from the best retailer!
KidCrawl.com monitors prices, reviews, and popularity of baby and kid products online. Our technology literally crawls the web for low prices, combines all reviews, creates price history and ranks popularity for these products. Our comparison tools and information pages allow moms to select the perfect product for them at the best value based on price and reviews by other moms.
We know that providing you with the most accurate and up-to-date information guarantees your return to KidCrawl.com.